William Henry Harrison died on April 4, 1841, 31 days after his inauguration as president of the United States.
Perhaps during the cold and rainy inauguration in which Harrison delivered the longest speech in inauguration history, perhaps from a well-wisher, Harrison caught a cold. The cold developed into pneumonia. Perhaps the pneumonia killed him.
Or, perhaps he caught typhoid fever from the notoriously bad water at the White House in 1841. Modern historians and medical specialists suspect Harrison had some form of typhoid, and not pneumonia from a cold. It's likely his physicians at the time did everything just wrong to treat typhoid, much as George Washington's physicians probably killed him 42 years earlier.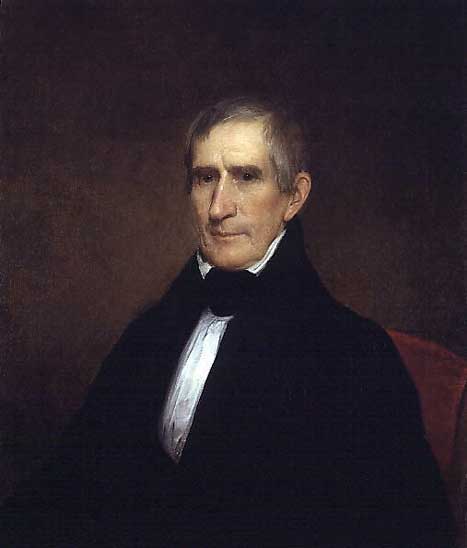 Any way it went down, Vice President John Tyler succeeded to fill 47 months of Harrison's 48-month term.
Harrison, a Whig, was the first president to die in office. His vice president, John Tyler, was a converted Democrat who quickly abandoned the Whig platform as president.
Harrison won fame pushing Indians off of lands coveted by white settlers in the Northwest Territories. Harrison defeated Tecumseh's Shawnee tribe (without Tecumseh) at the Battle of Tippecanoe, then beat Tecumseh in a battle with the English in which Tecumseh died, in the War of 1812.
Schoolchildren of my era learned Harrison's election slogan: "Tippecanoe, and Tyler, too!" Schoolchildren should learn that slogan today, too, as a touchstone to 19th century history and presidential politics. Some say it was the first slogan used by a candidate for president. See Mo Rocca's piece for CBS Sunday Morning.
On Harrison's death, Tyler found himself in uncharted territories. While the Constitution and the title suggested a vice president would fill in for a president when the president was absent, the Constitution did not explicitly say the vice president would succeed to the presidency if the president should die. There was some controversy at the time, about whether Tyler should act as caretaker until a new, special election was called.
Tyler took the oath of office as president, effectively putting the controversy to bed. No one sued to stop him. Tyler established the precedent of peaceful and quick transition of power to the vice president, upon the death of a president
Congress voted Harrison's widow a one-time payment of $25,000, since he had died nearly penniless. This may be the first example of a president or his survivors getting a payment from the government after leaving office. It's a precedent Congress didn't quite follow through on, and presidents left office without pensions for many more years, a story told with pain about the later years and death of President U. S. Grant.
In the annals of brief presidencies, there is likely to be none shorter than Harrison's for a long time. As you toast him today, you can honestly say he did not overstay his White House tenure. Others could have learned from his example.
More: