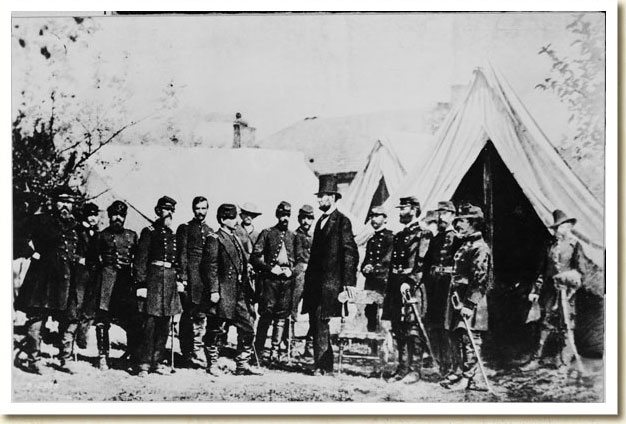 And, are you ready to celebrate the bicentennial of his birth in your classroom?
Photo: P_________ _______ _______ meets soldiers from the Union forces, following the Battle of Antietam, in Maryland, October 3, 1862. With the man in the hat are, from left, Col. Alexander S. Webb, Chief of Staff, 5th Corps.; Gen. George B. McClellan; Scout Adams; Dr. Jonathan Letterman, Army Medical Director; an unidentified person; and standing behind Lincoln, Gen. Henry J. Hunt. Photo and caption from _______ _______ Bicentennial 2009.
Homepage for Abraham Lincoln Bicentennial 2009, here.
(It will be a great year for teachers of history and biology — 2009 is also the bicentennial of the birth of Charles Darwin. Darwin and Lincoln were born on the same day, just hours apart.)
A special on-line, continuing education conference for teachers will begin in just a few minutes (2:00 p.m. Eastern, July 25, 2007). Click here. New users need to log in about ten minutes early.
Tapped In
2:00 p.m ET/11:00 a.m. PT

Teacher resources available through the Abraham Lincoln Bicentennial Commission (maybe we could just shorten this to ALBC?) will be featured in a special online session in Tapped In at 2 p.m. Eastern (11 a.m. Pacific) time July 25.

This session will give elementary and secondary teachers a chance to interact with ALBC staff to collaborate and discuss teaching strategies for the upcoming Lincoln birth bicentennial in 2009.

Tapped In is a free online teacher community with over 10,000 members worldwide. Educators are welcome to become members of the community, or join this session as a guest. It's suggested that new users log in at least 10 minutes prior to the session for assistance, if needed.